Plumbing is a serious business regardless of how good you are at doing household repairs. One wrong move can damage your house's foundation, and you'll have to spend thousands on repairs. This is why hiring a professional plumbing service is a much better option. Look at some other compelling reasons you should hire professional plumbers.
Efficient Work In Less Time
If you decide to fix a plumbing issue on your own, it can lead to difficulties which can lead to bigger issues. Not to mention, you won't have the right tools to do the job because you need a license to get the most cutting-edge tools. This decreases your efficiency, and every plumbing project takes longer than expected. On the other hand, a professional plumber can get the job done more accurately in less time.
Plumbers Are Licensed And Trained
Plumbers need to complete a comprehensive training program to get their licenses. The training program contains a set number of training hours where they learn different techniques to ensure they know what they're doing on the job. In some cases, they also need proper pre-training education to apply for the license. As a result, the plumbers are trained in the latest and most cutting-edge solutions.
They Save Money In The Long Run
Most people are keen on fixing small plumbing issues by themselves because they think hiring a professional plumber will cost more money. However, that's not true. Most small plumbing issues can become bigger ones if not taken care of properly. Professional plumbers are trained to assess the big picture of every situation so they can save you from any big plumbing issues by fixing the smaller ones correctly. So, in the long run, you won't have to spend additional money on plumbing.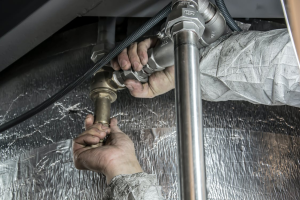 Offer Cutting Edge Tools
To perform a plumbing job properly, special tools and equipment are required. Especially when working with modern pipes and fittings. Without these tools, the chances of leakages or pipe bursts are high. Professional plumbers have these tools at hand so they can fix all of your plumbing issues with accuracy and efficiency.
Emergency Services
No matter the time of the day, reliable and skilled plumbers offer emergency services. This reduces the likelihood of accidents in case of a pipe break or water overflow. Another great thing is that most plumbers can be reached directly on their phones, so you won't be held up trying to reach them.
Proper Safety And Protocols
Plumbers must follow certain guidelines and procedures to install or repair pipes. This is why they offer safer services than you might do. They ensure that there are no leaks or loose fittings and pipes. Moreover, when dealing with hot water, they ensure that the pipes handle the water pressure and there are no accidents.
Find Reliable Plumbing Service In Methuen
Gotme Under Pressure offers reliable plumbing service in Methuen. We offer a range of plumbing repair services, including faucet repair, valve/hose repair, and water line repair. We also replace faulty lines and fixtures for leak-free service. Besides that, we also offer drain cleaning and gas piping services. Take a look at our services and reach out to us today for a free estimate!